Minnesota Federation of Music Clubs • MFMC
Meet our Officers . . . Find a club near you . . . Join MFMC today!
Contact Us
Introducing MFMC President Nancy Fisher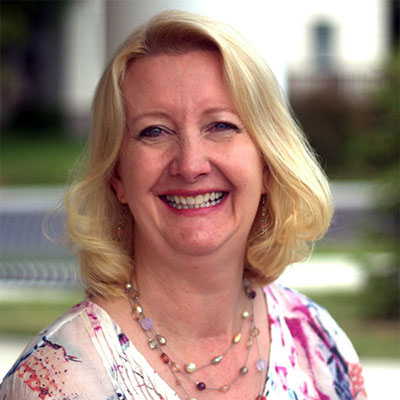 Nancy Fisher
MFMC President
MFMC is first — a group of music lovers and enthusiasts. Many of our members teach music and want to give our students the best possible experiences. I encourage you to find out more about the Minnesota Federation of Music Clubs. Along with all the amazing opportunities and possibilities, I hope you will discover in MFMC as I have, a group of friends who encourage and support one another as we go about our busy musical days.
Welcome to MFMC's About MFMC page, which features two maps that show locations of MFMC Senior Clubs throughout the State of Minnesota and in the Minneapolis area.
For more information about MFMC or to JOIN MFMC, please contact Julie Gutzmer, MFMC Membership Chair.
For information about MFMC's Festival Program, contact Nadine Berg, MFMC Festival Chair.
MFMC Club Map Minnesota
MFMC Clubs throughout Minnesota and the Minneapolis area. Find one near you.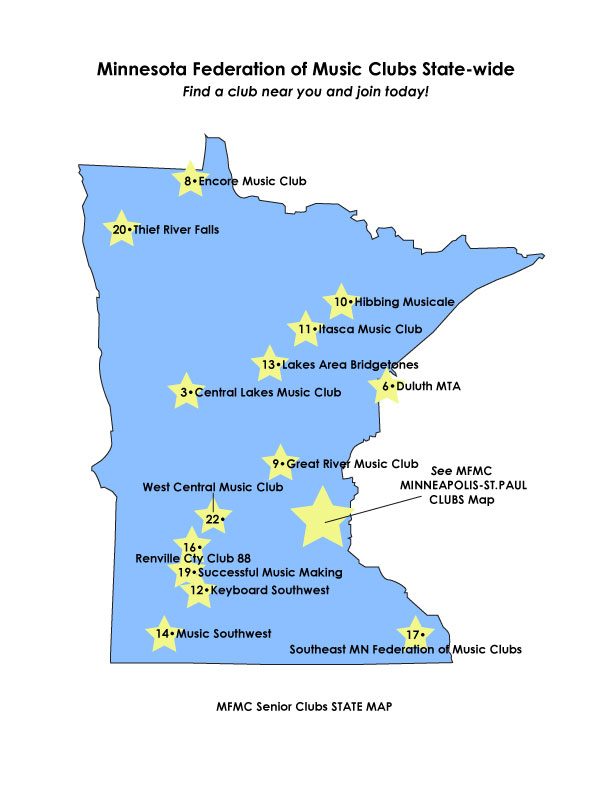 MFMC Club Map Minneapolis Area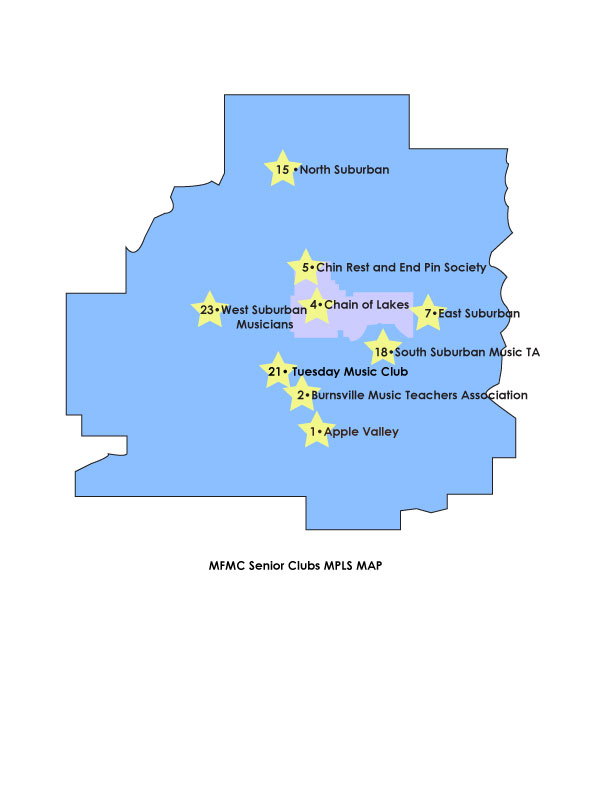 I am so grateful for the [scholarship and] opportunity to attend IMC — International Music Camp —this [past] summer. The week I spent there was packed full of musical lessons and opportunities . . . Not only did I gain a wealth of knowledge on all things music and piano, I also formed excellent connections
with both my professors and fellow students.
I highly value the organization of the Minnesota Federation of Music Clubs and I am a better teacher because if it. My students have been highly motivated in learning, memorizing and performing piano repertoire for the Piano Festival . . . I am inspired by the leadership in the state and national organization from talented musicians and teachers who share their area of expertise to promote the arts through this harmonious group.
I really enjoy the Vocal Festival as a student because I like to get critiques that will help me get better.  I also like that these contests are not competitions against other students.  It is a competition against yourself to see how much you can grow.